Turkey Pesto Veggie Stir Fry.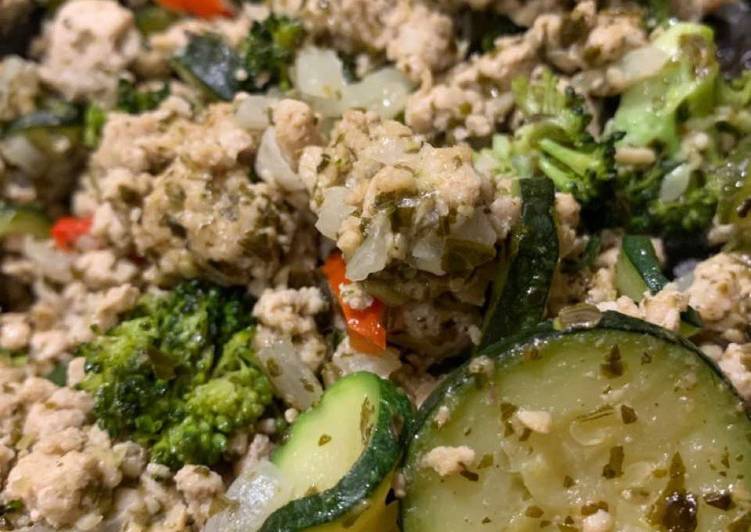 You can have Turkey Pesto Veggie Stir Fry using 9 ingredients and 6 steps. Here is how you achieve that.
Ingredients of Turkey Pesto Veggie Stir Fry
It's 3 of lbs- ground turkey,.
Prepare 1 of – yellow onion, chopped.
It's 1 of – red bell pepper, diced.
It's 2 of – zucchinis, sliced.
You need 1 of – head of broccoli.
You need 16 of oz- pesto.
You need 1 of cup- Parmesan, shredded.
Prepare 1-2 of tsp- olive oil.
Prepare to taste of Salt & pepper.
Turkey Pesto Veggie Stir Fry step by step
In a large sauté pan, heat olive oil over medium heat and add chopped onions. Cook for 3-5 minutes, stirring occasionally..
Add turkey. Continue stirring and separating chunks of turkey. (~5 min).
Before turkey is fully cooked, add sliced zucchini. Mix well to ensure zucchini is properly exposed to the heat. Sprinkle salt & pepper as desired..
In a separate skillet, begin heating broccoli and red peppers over medium heat. (~3-5 min).
When broccoli and peppers are nearly cooked, combine with the turkey & onions mixture..
Food should be ready when the zucchini is softened and broccoli has a soft crunch. Mix in the pesto and parmesan cheese! Serves 4-6..